Ok, Here is a step by step guide to removing the differential and halfshafts ready for an LSD Upgrade, which i will cover in further instalments.
The job is straight-forward and easily completed with basic tools:
Also a decent hammer is useful plus a 21mm socket for the wheel nuts.
1#
Chock one or both front wheels and let off hand brake and leave car in neutral. Also slacken the rear wheels nuts: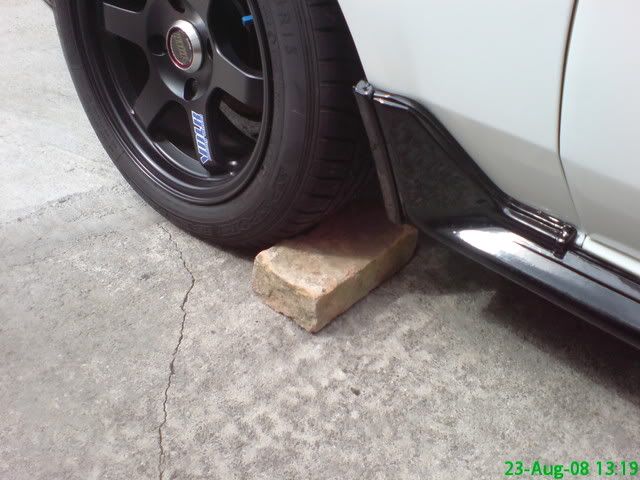 2#
Position the Jack carefully under the differential housing, in the centre of the rear axle:
3#
Position your axle stands at the outer ends of the Axle as shown below, and remove rear wheels: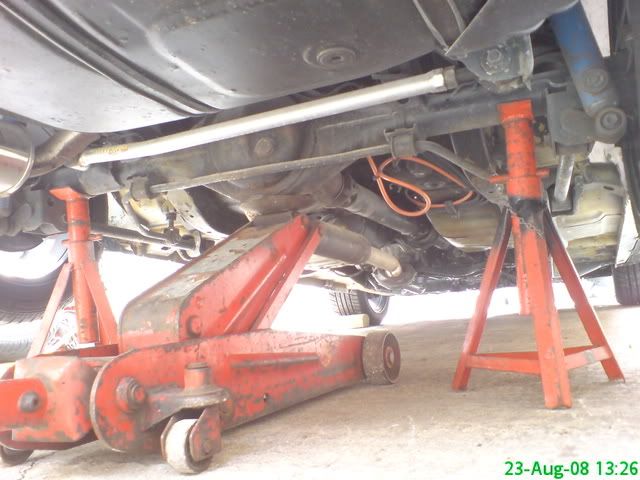 4#
Use a 24mm six-point half inch drive deep socket to undo the rear axle drain bung. Have a suitable clean tray or bucket to catch the oil. A washing up bowl will suffice. It takes a few mins for the oil to drain, watch out if its windy! Pop the bung back in to keep it safe.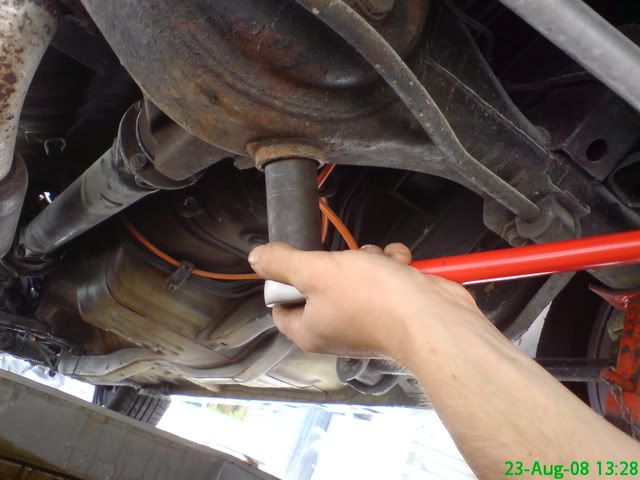 5#
Unbolt both rear calipers and pad carrier in one unit via the two 14mm bolts that retain the pad carrier to the hub:
The whole brake unit will happily sit on the lower suspension arm:
6#
Use two M10 x 1.5 bolts to free the disc from the hub, by inserting them into the two threaded holes in the face of the hub part of the disc. Tighten them up until the disc is pushed away from the hub. It will probably be tight but persevere until the disc can be removed completely:
7#
Once the disc has been removed, look just behind the hub and you'll see four 14mm nuts retaining the bearing dust cover: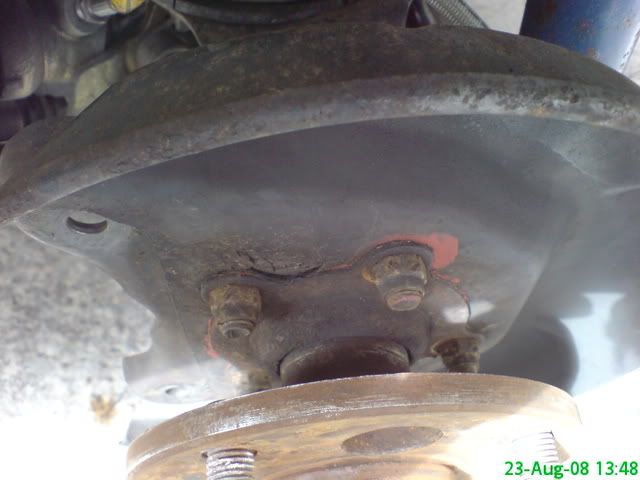 Line up the hub holes with the 14mm nuts: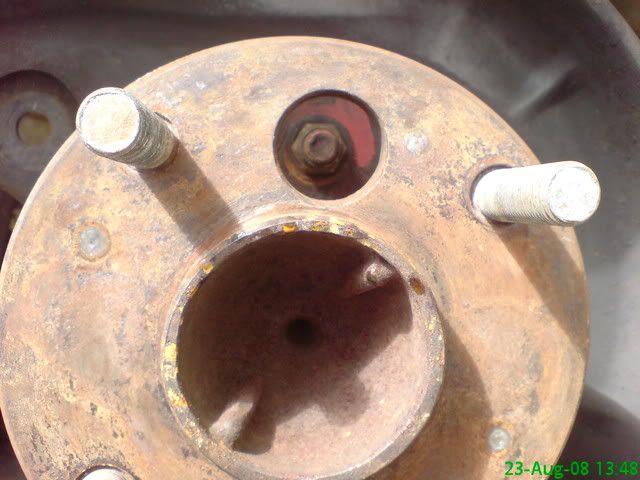 Use a decent quality deep 14mm 3/8" drive socket and corresponding short extension with ratchet or 3/8" breaker bar to undo the nuts: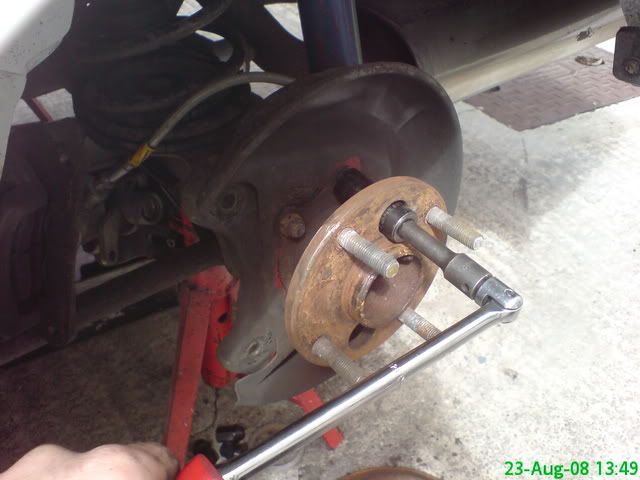 Leave the plate in position it as the wheel bearing on the half shaft will gently pop it free for us.
8#
Install a large slide hammer onto the hub using two of your wheel nuts. Do not use ally nuts for this. Tighten the nuts carefully and evenly to hold the hammer firmly against the hub: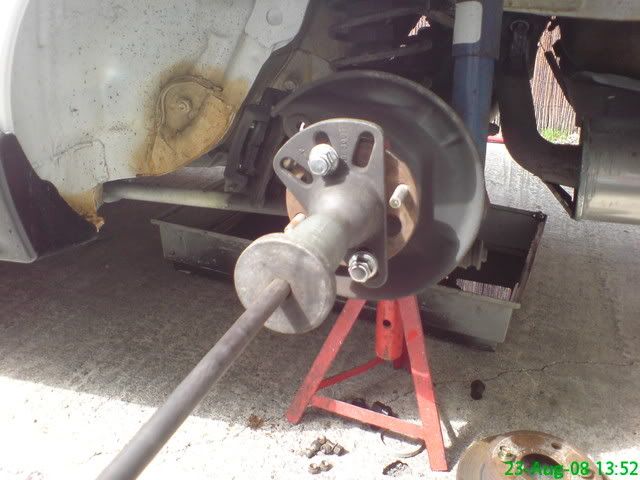 9#
Pound away with the slide hammer and the bearing will start to move towards you: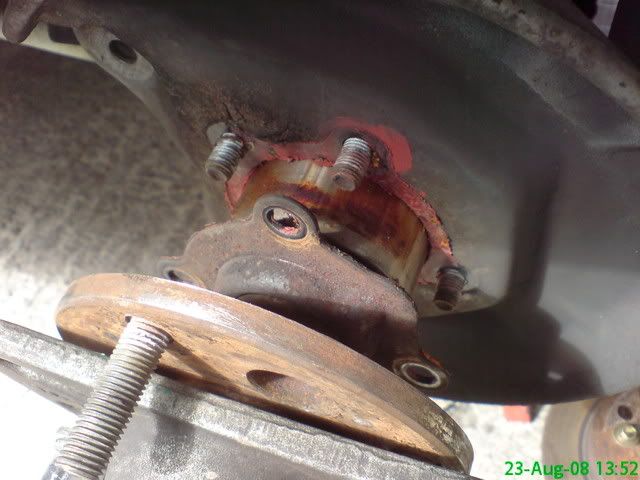 Keep going until is comes free and you feel the shaft drop into the axle tube: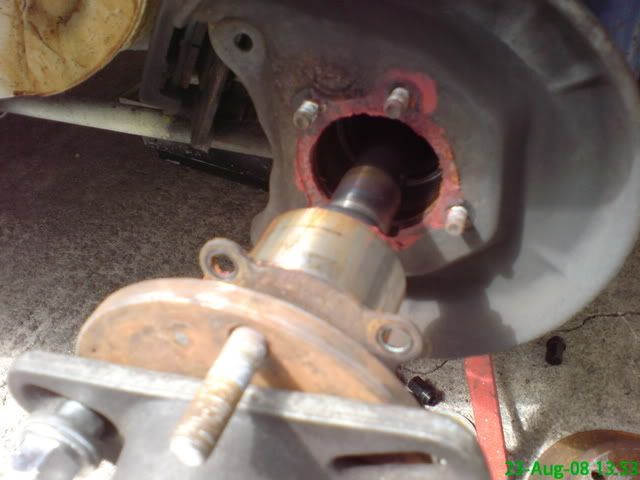 Be careful not to damage the axle seal, shown here, when withdrawing the shaft from the axle tube:
10#
Mark which side the half shaft came from with indellable pen on the bearing, for future reference.